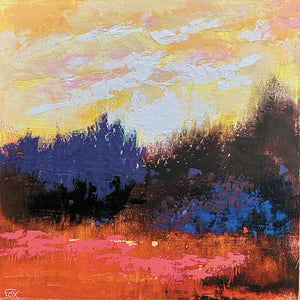 100 Paintings in 100 Days.
100/100 is a collection of Nova Scotia inspired landscape paintings created using oil and cold wax medium. Each of the paintings in this series was created on a 6"x6" cradled board.
The project began February 1st, 2022 with Day 1. Each day afterwards for the next 99 days, I painted with oil and cold wax, transforming it into light and shadow, clouds, rocks, trees, and sand. My muse... Nova Scotia.
Each painting comes with a free, signed by the artist, catalogue of the project that tells the story, and shows all 100 of the paintings in the collection.
Oil and cold wax on cradled board - 6" x 6"